On Friday when I opened my facebook literally every second post was something comment or news article about Mr Lajos Simicska pronouncement. He had call the prime minister "jism" also some FIDESZ party activist was labelled with this glorious attribute.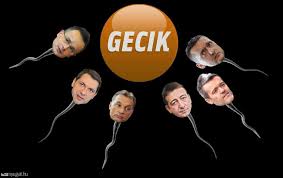 In the Hungarian language the sperm is a swear-word. My dictionary said "motherfucker" or "bitch" on that situation when the very rude and under educated people speak like this.
However, much more interesting who used this class and why. Back to the change before 1989 Mr Simicska and Mr Orban was flatmates in the University Dormitory and after Mr Simicska cumulate the party assets in different organisations. During the FIDESZ governments so many European Union money landing in the KÖZGÉP Rt. Approximately 50 % of the road making or investment found is disappear in this way. Because of the penetrate corruption the construction industry is dead. No one can emulate with this robber group. The EU founds made them incredibly rich.
Based on this money horn of plenty they build up some TV channel and editorial. In the last 17 years they have been systematically attacking the independent NGOs and newsrooms. The mainstream can see only the government propaganda in the telly about the glorious Hungarian fairytale.
Mr Orban decided to create more state financed TV channel and he asked the HírTV and Magyar Nemzet management staff to join to the new newsroom team. That was the point when his old friend labelled him once famously said "He is a jism!".
The Hír TV and the Magyar Nemzet was the leader campaign organisations to build up a special constellation on the political market. They start to demonize the left and liberal parties and after finally they start to labelling the independent NGOs and experts like Mr Putyn's Russia. Everyone is CIA agent who is speaking against the government. Approximately the hole media horizon and NGO horizon destroyed. As I explained here the independent NGO have become a public enemy in Hungary, still 2013 the government stopped to give money for the NGOs for the basic administration which is supposed to be big scandal.
Very funny in this conflict when Mr Simicska worried about his execution. He said he thought he would be killed by Mr Orban. Only the publicity can defend him, so he need to say that.
That is ridiculous. The man who organised this political crisis, this mafia system, this violence based rotten "illiberal democracy" he asking the publicity to defend him! Because he is "the" blue.
Whatever is could happened with his body he have become immortal. We will have ever remember this Friday "jism" speech. Maybe in the far future we will forgive him how they destroyed the media sector, how they destroyed construction industry, how they steal billion and billion EU money, how they blocked this fund development benefit, but finally he give us a funny afternoon!
Thanx Louis!